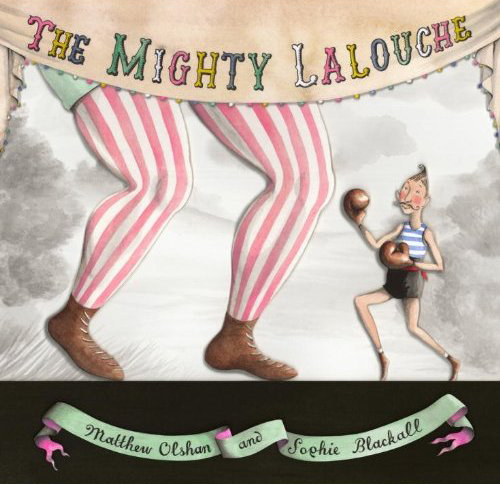 "A bona fide knockout. C'est formidable!"
+++++ — Publishers Weekly, Starred Review
"The text and pictures work expertly together, moving the story forward in clever and funny ways."
+++++ — School Library Journal, Starred Review
"Move over Madeline — this winning tale, c'est magnifique!
+++++ — Bookpage
The Mighty Lalouche
(Now in bookstores and available online)
As soon as I saw Sophie Blackall's artwork (www.sophieblackall.com), I knew I wanted to write a story for her to illustrate. So I sneakily asked her what kinds of things she was interested in. She mentioned she liked to collect old pictures of boxers, especially extremely skinny ones with big billowing boxing trunks.
As Sophie described these antique portraits, the Mighty Lalouche leaped into my imagination, complete with meticulously groomed mustache and beloved finch. The story came later: our humble postman loses his job; becomes a sparring partner to make ends meet; and discovers, much to everyone's surprise, that he's invincible in the ring.
It usually takes Sophie about four months to illustrate a picture book, but she decided to experiment with a Japanese technique called "tatebanko" for The Mighty Lalouche, which involved the painstaking creation of three dimensional artwork for each spread. The illustrations wound up taking two years! You can read more about Sophie's fascinating process here.
You can purchase this book at online retailers like Amazon and Barnes & Noble, but I'd encourage you to support your favorite local children's bookstore.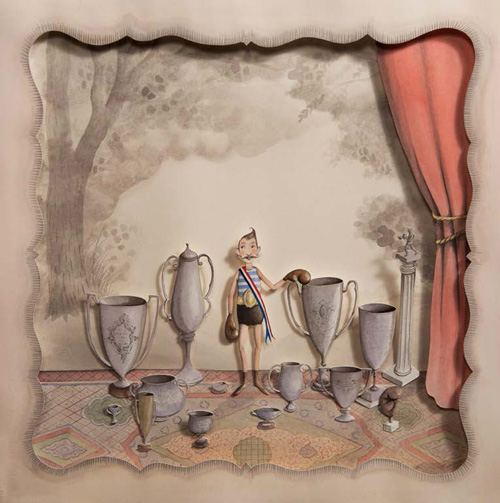 Allez Lalouche!
Reviewers have been very kind to The Mighty Lalouche. The book received starred reviews from Publisher's Weekly; School Library Journal;" and Booklist.
There were also plenty of kind words for Lalouche in Bookpage, The New York Journal of Books, and Horn Book!
Publishers Weekly followed up their review with a story on the special mailing Sophie did for about 100 publishing professionals. You can read about it here.
School Library Journal made The Mighty Lalouche their "Pick of the day" on April 29th; and Scholastic Instructor selected Lalouche for its "Ultimate Summer Book List Reading Pick" (Summer 2013).
Bookpage featured an interview with Sophie about Lalouche in their May 8th Children's Corner newsletter.
The Wall Street Journal weighed in…and they like Lalouche!
All sorts of websites and blogs ran stories on Lalouche. Children's librarian extraordinaire, Betsy Bird, hosted a contest on her blog, A Fuse #8 Production, which offered a prize for the best story about a favorite package that came in the mail. Maria Popova's Brainpickings.org ran a story on Sophie's spectacular illustrations — and some of the vintage photographs that inspired them. Kirkus hosted an informative interview with me and Sophie in its online review.
As for me, I contributed pieces about writing — and the mail! — to the Nerdy Book Club and to Two Writing Teachers.
In late May, Sophie came down to the Baltimore/D.C. area to do events with me at The Children's Bookstore and at Politics & Prose. The one at P&P was especially memorable; one of the students asked me why I'd used the "B"-word in the story! "The 'B'-word?" I said. "What 'B'-word is that, exactly?"
"Booty!" he cried. At which point I heaved a sigh of relief and explained the difference between "booty" and "bootie…"