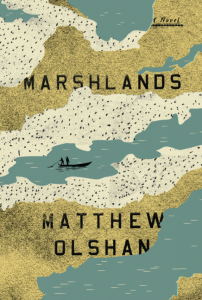 "A first novel of considerable maturity: powerful, original, cunningly constructed, and timely."  
— JULIAN BARNES
"A Waiting for the Barbarians for our tech-exhausted age."  
— MARLON JAMES
"A work of insistent witness."
— The New York Times Book Review
A Booklist 2014 Top 10 First Novel
(Read the opening pages here, on FSG's Book Keeping blog.)
When it first came out, Marshlands seemed to cause readers some confusion. It's not an easy novel. Perhaps it was the backwards-in-time structure of the story; or the stubbornly unnamed locale, which bears a striking similarity to the marshes of southern Iraq; or the idea that empire-building in the modern era might look uncomfortably familiar.
But it did have its champions.
One of my favorite reviews was this one by Ellen Akins for the Minneapolis Star Tribune, which meets the book on practically all its levels.
Floyd Skloot wrote this nice piece for The New York Times Book Review.
FSG asked me to write a few pieces to help introduce readers to the novel. This one is about the heavy debt Marshlands owes to J.M. Coetzee's Waiting for the Barbarians.
This one is about the challenges of writing a classical tragedy — in reverse!
And finally, here's a piece about museums, public memory, and shame that was published in the Paris Review.